Running tip #57
I found a way to live two days in one.  Not everybody can use this tip (because of work-place constraints), but running trick #57 is take a power nap every day.  I started this practice when I was in college; running two-a-days required more sleep so I had to fit it in where I could.  After morning classes, a five mile run, and lunch … I would crash from 2:00-3:00pm to rest and re-set before afternoon XC/track practice [the actual sleeping time was around 40 minutes].  Over time, my body fell into a natural 24-hour routine, with three 8-hour segments, that I more-or-less keep to this day:
11:00pm-7:00am (8 hours sleep)

7:00am-3:00pm (7 hours of vigorous activity + one hour of power nap)

3:00pm-11:00pm (8 hours of my "second day" with more vigorous activity)
My second full day begins with a second cup of strong coffee – tip #58 tomorrow! – after my siesta.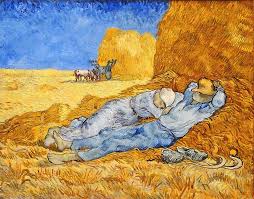 Even as a young mother I indulged in power naps (sleeping alongside my babies and later making sure I got my 40 Z's every afternoon from 2:20-3:00pm before the school-bus came).  I always, always, feel fantastic on my evening runs after the double-zap of nap and coffee.