Running tip #18 – Learn to use your crock-pot.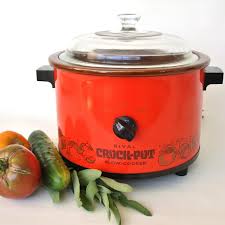 My husband, Dave, is the only person I've ever known who owned and USED a crock-pot while in college.  He would routinely assemble all the tasty ingredients in his (mom-purchased!) crock-pot before leaving for a full day of classes and cross-country practice … then return on cold, wintry evenings to a hot, home-made meal … much to the amazement and shared delight of his track-team housemates.  Here is the best recipe that ever came out of Dave's crock-pot living.
Lazy Slow Cooker Creamy Chicken Noodle Soup
Ingredients
4 cups cooked chicken, chopped (I use a whole chicken, pre-cooked in crock-pot)
1 cup onion, diced
1 cup celery, diced
1 cup carrot, diced
1/2 cup frozen peas (I skip these, because I hate peas)
4 (14 ounce) cans chicken broth
1  (10 3/4 ounce) can condensed cream of chicken soup
1 (10 3/4 ounce) can condensed cream of celery soup
2 teaspoons fines herbes ( or, a 1/2 tsp each of chervil, chives, parsley, and tarragon)
salt
pepper (fresh, cracked – about 10 cranks of pepper mill)
2 cups egg noodles, cooked (I use wide egg noodles to be more "dumpling-like")
Directions
Remove skin (and de-bone, if you're using a whole chicken) then chop the meat.
Put the chicken into a slow cooker with the onions, celery, carrots and peas.
Stir in broth, condensed soup, and fines herbs. Season with salt and pepper.
Cover and cook on high for 3 to 4 hours or low for 8 to 9 hours,

depending on how long your run is 🙂

When soup is finished, stir in egg noodles.
Season to taste and serve. Enjoy!