Running tip #4
If you've ever experienced a sore tibialis anterior tendon (the tendon that flexes when you lift your big toe/forefoot) from a too-tight shoelace, you will want to learn the secret shoe-tying method I discovered back in my New Balance track club days (thanks, Kevin Ryan!).  The reason this method works is that the pressure (or tightness) from one lace pulling across your tendon is distributed over two laces, separated by a 1/2″ or so.
First, take the laces out of the top holes:
Next, make loopholes by threading up the side, not across the shoe: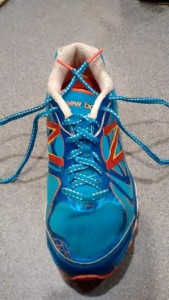 Then, thread the single laces through each loop.
.
Finally, pull tight for a snug fit with no tendon pain!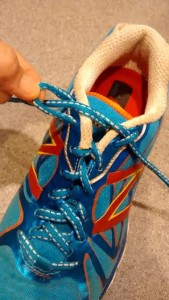 And, by the way, this is just one of several of my 365 tips that has to do with shoe-laces.  Haha, I'm such a dork.