Running tip #53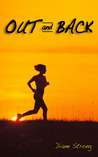 Another workout that travels well (especially in a foreign city/country where you are just learning your way around) is the standard out-and-back.
Run out in one direction for 25 minutes – with first 10 minutes at warm-up pace then settling in to a moderate cruise pace until you get to 25 minutes.  Stop your watch at the end of the out.
Turnaround and reset your watch for the back portion, trying to run it faster than the out.  Shoot for 20:00-22:00.
Out in 25, back faster.  The ER, in fastER, is the most important part of this workout (I was even thinking of titling this post, "To err is human; to ER, divine!").
Cool down after the back with a super slow jog until you get to 50 minutes total.
One of the most beautiful out-and-backs I've ever run was on the Philosopher's Way in Heidelburg, Germany.  Of course, it felt like cheating because the out was all UP-hill and the back was all DOWN … but you can see it was a lovely 50 minutes.