Running tip #90
Never wear a brand new pair of shoes on race day.  I learned this the hard way back in the 10,000m final of the 1988 U.S. Olympic trials.  Talk about a rookie move!  I was so excited to get shiny new spikes from my sponsor, New Balance, that I decided to "save" them for the final.  What was I thinking?!  This wasn't the prom, for goodness' sake, and I wasn't preparing to be seen in a one-time only ball gown.   It was a foot race and my FEET needed to be well-used to the shoes I was wearing for a 25-lap race around the track.  Did I break those spikes in wearing them for strides three weeks before, a workout two weeks before, then maybe a dress-rehearsal race 10 days before The Olympic Trials like any mature, rational person would do?  Oh no, I took those shoes right out of the box and laced them up about 15 minutes before the gun went off.
And look what happened around the 2-mile mark of a 6.2 mile race: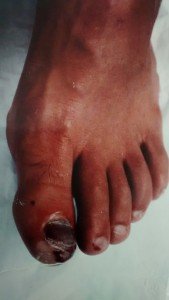 Both of my big toes filled up with blood because those shiny new spikes were a 1/4 size too small.  Every step from 2 miles to the DFL place finish was increasingly more painful.  I could barely walk to the medical tent after I crossed the finish line … where my med-student friend heated up the end of an uncoiled paper clip to skewer/burn (I kid you not!) a hole right through the top of my toe-nail to let all the blood out.  It was gross and I was laughing and crying at the same time over the absurdity of the situation and my colossal idiocy.  You know how they say "Live and Learn"?  Well, in this case it's better to learn this lesson in a running tip rather than live it with bloody toes.
WebMD explains how to do the paper-clip trick.