Running tip #95
More advanced runners may want to try what I call "split intervals" during spring track season.  Take any distance and split it up with steady/float/fast to prepare yourself to move around on the pace within a race.  Even-splits are only run in time trials; in races, especially the 1500 and mile, there is a LOT of surging and jockeying for position.  Split intervals help you learn to absorb and accommodate (both mentally & physically) all the sudden moves.
For example:
1200m split = 400 fast, 400 float, 400 fast  (i.e.  80, 90, 80 for a total 1200m time of 4:00, or 5:20 mile pace)
1,000 split = 600 steady, 200 float, 200 fast
800 split = 500 steady, 150m float 150m fast
600 split = 400 fast, 100 float, 100 sprint
… and my personal favorite, split intervals I affectionately refer to as Harry's Hammers named after my one-time, long-distance coach who resided in England, Harry Wilson.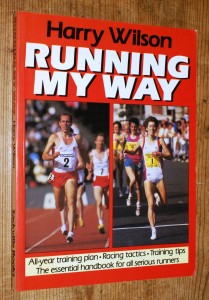 Harry is famous for being middle distance gold-medalist, Steve Ovett's adviser/coach and I am grateful to him for teaching me so much about the British Miler's club training secrets and for introducing me to split intervals, hammer-style.
So, here's a Harry's Hammer:
400 split = 200 fast, 100 float, 100 sprint … time the whole 400 (back when I was a 4:30 miler, I did them in 32, 19, 14 for 65-second split 400's)… fast jog a 200m recovery before the next Harry Hammer.   I would do a total of 8 x 400 (with the 200 jog = 4,600m total) to prepare for a fast 5,000m on the track.  My best 5k time was 15:24.
The hammers work … but, Dang!, are they hard.