Running tip #16

With daylight in short supply throughout these winter months, sometimes your daily run perforce becomes a nightly run.  For those necessary nocturnal excursions, I suggest investing in a high quality head lamp to illuminate your perambulations.  Haha, can you tell I've been reading Thomas Wolfe?
In simpler terms, when I have to run in the dark I use the no-frills Petzl Tikkina headlamp.  It's very comfortable and it only costs 20 bucks.  Once you own one, you no longer have the excuse of saying "it's too dark to run."  So, for tip #16, I promulgate: prepare for a rainy (or dark) day by purchasing a Petzl tout de suite!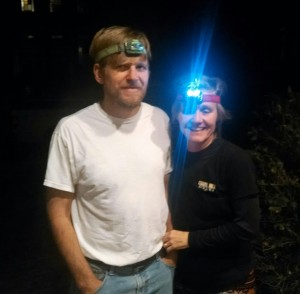 With two people (and two headlamps) there's enough light for trail running … and, as an added bonus, when you spit it's really cool to see it spray out in the LED spotlight.