Running tip #8
Baby it's cold outside, so here's a tip for how to add a layer of warmth that doesn't make you feel like the little brother from A Christmas story.
Rub a generous amount of oil all over your body before getting dressed to run.  My daughter's cross-country team at Oberlin College heard of this insulation method before a particularly frigid race and chose to slather themselves with Olive oil on the starting line . . . but I prefer smelling like a diva rather than an Italian pizzeria, so I use the deliciously aromatic *Neutrogena "light sesame formula" body oil when I pre-game for cold weather running.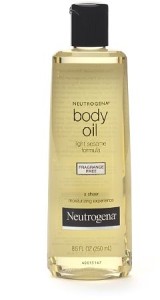 So, oil up and get going!
*Special thanks to Nnenna for this lovely tip.